Are you a planner for your company's compensation cycle, but you're unable to make any edits? 😢There are a few reason why this may be the case.
Your comp cycle hasn't started yet
If your company admin has not yet started the comp cycle, you will still be able to view all employees within your assigned groups, but you will be unable to make modifications until your cycle & wave is turned on. When you navigate to the comp cycle page in Pequity, you will see a status indicating that there are No waves in progress.


Clicking on the cycle will also reveal the groups you are planning for in a Not Active state.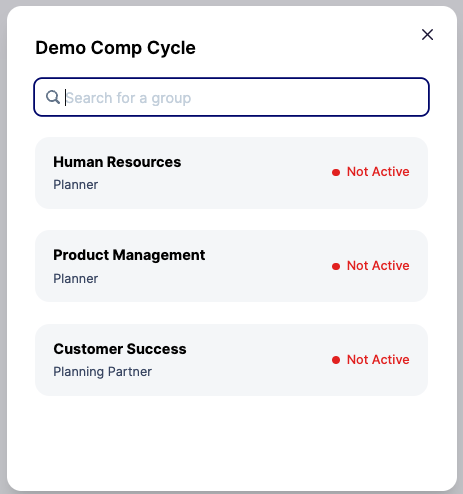 When navigating to a group, you will also see a Not Active status in the right hand corner and a message indicating the cycle is inactive beneath the search bar. The cycle and your group will need to be turned on by your company admin for edits to be enabled.



You already submitted your recommendations
If you have already submitted your recommendations for a group, you will be unable to make edits to employees and see the below message beneath the search bar in the cycle. To reopen planning and your ability to make edits, you will need to reach out to your Pequity company admin.



The planning has been closed for your wave or group
Depending on your company's internal timeline, it is possible that planning has been closed for your wave or group. If you were previously able to make edits, but have since logged in and found that you no longer can, this is likely the cause. Similar to the first scenario, you will see your groups in an Inactive status with the following message:

💬 Something else on your mind? Reach out to our support team using the in-app help icon and we'd be happy to help!