Depending on your company's needs, you may need to fall within a specified budget when conducting your comp cycle's planning. 💰


After receiving an email notifying you that it is your turn to plan, navigate to the desired group you would like to plan for in your cycle. After choosing the desired group, you will see a budget number in the top right corner.
☝️ Keep in mind, the name of the group you are viewing will always display in the top right corner next to the Approve All button. Your budget may be different for each group.
The number in green on the left is your projected spend. This is a summation of all of your recommended increase values that will auto-update as you make changes to recommendations.
The number in grey on the right is your specified budget. This number will remain static and is dictated by the results of your company's compensation philosophy & logic.

Clicking on the downward caret icon ⬇️ will open up a detailed view of your budget by element if your cycle is inclusive of multiple elements (ie. Salary, Equity, Bonus).


As you make changes throughout the cycle, your projected spend will update. The goal is to keep your projected spend in the green. When the summation of your increases turns red, you are going over budget.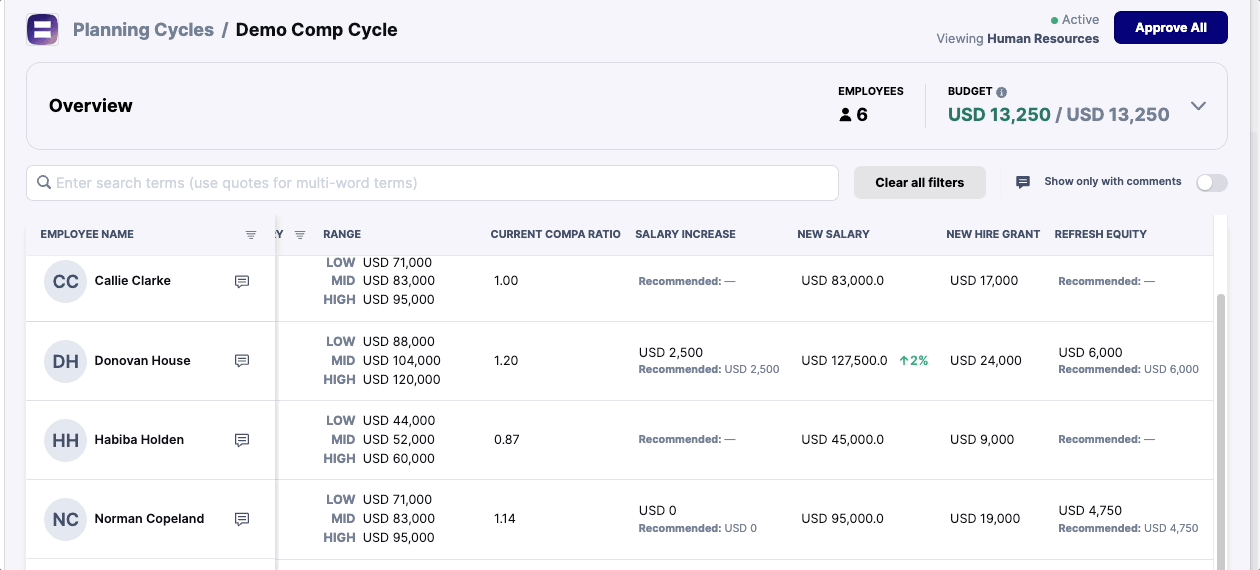 Have questions about where the recommendations and budget numbers came from? Reach out to your Pequity company admin! Now go spend that money! 💸